Community Solar Projects in Massachusetts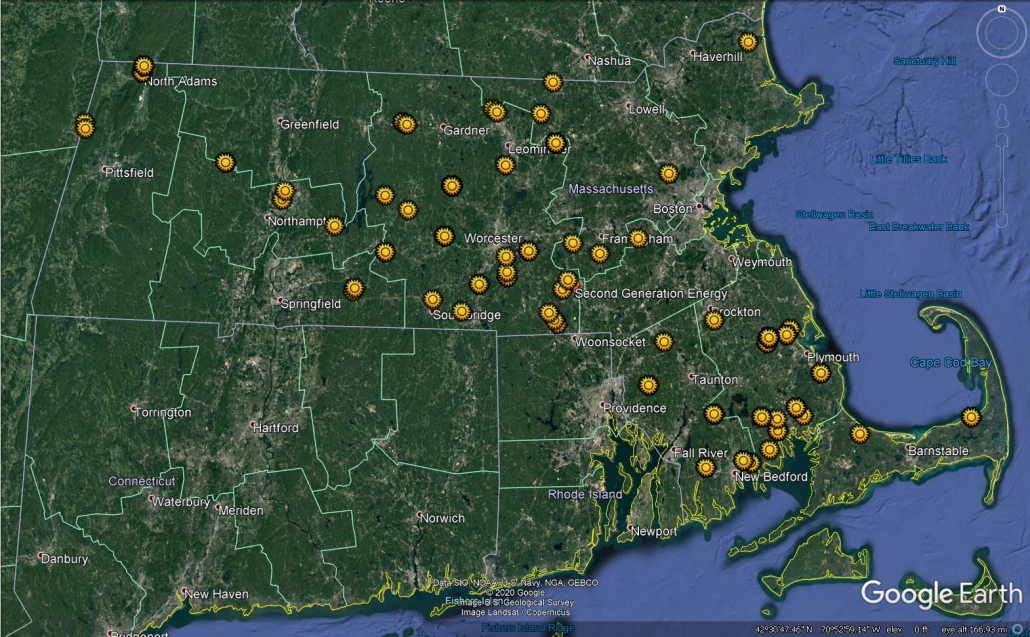 More people are deciding to go solar every year. Going solar will reduce or eliminate your electric bill, earn a good return for your investment, increase your property value, protect against rising energy costs, and protect the environment by cutting your consumption of non-renewable energy.
Community solar is when a local solar facility is shared by multiple people who all receive credit for the power produced and is becoming increasingly common. This can be a good option for people who cannot install solar directly on their property. Many people live in establishments that are owned by someone else, like landlord, and do not have authority over if they go solar or not. Other people do not have adequate rooftop or ground space for solar, as it takes up a large surface area. People who benefit from community solar projects can still contribute to the system and gain energy returns regard less of the physical attributes of their property or lifestyle.
Community solar has been becoming increasingly popular around the country over the past few years. With only 26.67 MWdc installed capacity in 2011, there was 218.42 in 2016, 586.26 in 2017, and 609.45 in 2019. Though the virus does seem to be negatively affecting growth, community solar is over the longer-term still contributing more over time.
It is helpful for homeowners who want to participate in community solar to talk directly with others who might contribute to the same operation about how everyone could benefit. It is also helpful to understand your home's electricity usage and options available to you. Other factors like personal preference, location, and pricing might play a role in your decision. Sometimes, simple rooftop or ground solar on your property is the best option for you and your household.
Each state has their own legislation that sets guidelines for installing community solar. According to the NREL Data Catalog (https://data.nrel.gov/submissions/95) there are 56 community solar projects just in Worcester county alone, where Second Generation Energy operates.  Grafton has the largest community solar project at 3700 kW. Unfortunately, Rhode Island does not have any projects listed online yet. Check out a local community solar site near you and talk to others about how solar is benefiting them! Here is a map of all community solar projects in Massachusetts according to the information from the National Renewable Energy Laboratory Data Catalog from their federally funded research. Speak with a solar installation company for help on this. Second Generation Energy services Massachusetts and Rhode Island properties, and would be happy to assist you.
https://www.sgesolar.com/wpinhere/wp-content/uploads/2017/08/sge-solar-padding.png
0
0
SGE Marketing
https://www.sgesolar.com/wpinhere/wp-content/uploads/2017/08/sge-solar-padding.png
SGE Marketing
2020-08-06 10:02:36
2020-08-07 10:53:31
Community Solar Projects in Massachusetts